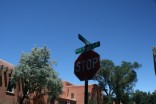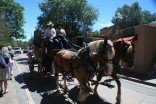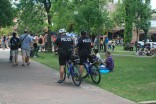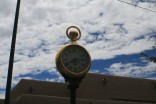 See more pictures of SantaFe
AIDSImpact 2011 will highlight recent advances in HIV/AIDS prevention, treatment and care. It will also focus on remaining and emerging challenges for HIV prevention and care among highest risk populations. The location of the conference in Santa Fe will be an invitation to focus specifically on the HIV prevention and care needs of native and cross-border populations.
Spanish access. For the first time, AIDSImact 2011 will have a parallel Spanish language track to provide easier access to Spanish-speaking countries, communities and researchers.
The AIDSImpact 2011 venue is the Santa Fe Community Convention Center. It is centrally located in Santa Fe the beautiful capital city of New Mexico, the "Land of Enchantment". Nestled in the Rocky Mountain, Santa Fe is one of the oldest state capital cities in the USA -- founded in 1608 by New Mexico's third Spanish governor Don Pedro de Peralta as La Villa Real de la Santa Fé de San Francisco de Asís. It has a very distinct "adobe" architecture inspired by historic Indian pueblos, many of which can be found and visited in close vicinity of the city. Santa Fe is rich in Indian and Spanish Colonial culture and arts as witnessed by the many eloquent museums that are among the nation's finest collections of folk, Indian, and western modern art. Within walking distance from the conference venue are a host of beautiful hotels and great restaurants as well as the Santa Fe Plaza in the town center where Indian crafts and art can be admired and purchased. The Plaza is also a central hub for many Santa Fe festivals, including the annual "Fiesta" which happens to occur the weekend preceding the conference!
Santa Fe is easily reached internationally and nationally. It has a small local airport, and excellent connections to Albuquerque International Airport.
See transport information